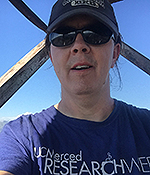 Research Interests:
Adam's research interests combine critical pedagogy theory and radical geography to explore Native American counter-mapping instances. Maps are produced by Tribal Nations seeking more control of their lands, government institutions, and cultural assets. Young Native mappers are creating maps to both reconnect to their history and as a way to resist the ongoing colonial project.
Other Research Interests:
Geographic Information Systems (GIS), repeat photography, Native landscape management, critical pedagogy, human geography, and sociocultural anthropology.
Bio:
Adam Fleenor advisor is Dr. Kathleen Hall and will enter his fourth year with ABD status. Adam's education includes B.S from the University of Oregon in Geography and Environmental Studies, M.S. from CSU Stanislaus in Interdisciplinary Studies (ecology and geography). He has six years of teaching experience with 15 classes as the instructor of record. Adam has five years of experience as a professional GIS specialist and cartographer, working for agencies like the Oregon Department of Forestry and Portland Water Bureau. Adam recently published a repeat photography methods article with two other authors that examined 1934 panoramic photos in Yosemite National Park. Moving Beyond the Frame: Geovisualization of Landscape Change Along the Southwestern Edge of Yosemite National Park.