In an effort to adhere to social distancing restrictions during the COVID-19 pandemic, IH has shifted all program events to virtual sessions for the 2020-2021 academic year. The list below includes upcoming events—please check back periodically for updates.
---
Oral Histories, Memories, and Transcripts - Kenyan Veterans in the Second World War
Guest Speaker: Victoria Mutheu Mutisya
Novemeber 5, 2020 
4:00pm (PST)
via Zoom*
About: Victoria Mutheu Mutisya is an independent filmmaker, oral historian, and small-scale farmer from Kajiado, Kenya. She has interests in the collection and documentation of Kenyan oral histories. Her most recent work is a documentary that explores the experiences of Kenyan Soldiers (Askaris) in the Second World War and the impact it had on their families. The project aims to capture and share the stories of Kenyan veterans and their wives with local audiences who may not be familiar with the sacrifices colonial Kenyans made both in the war theater and Homefront. Ms. Mutisya has presented her research internationally and her work has been featured on Al Jazeera.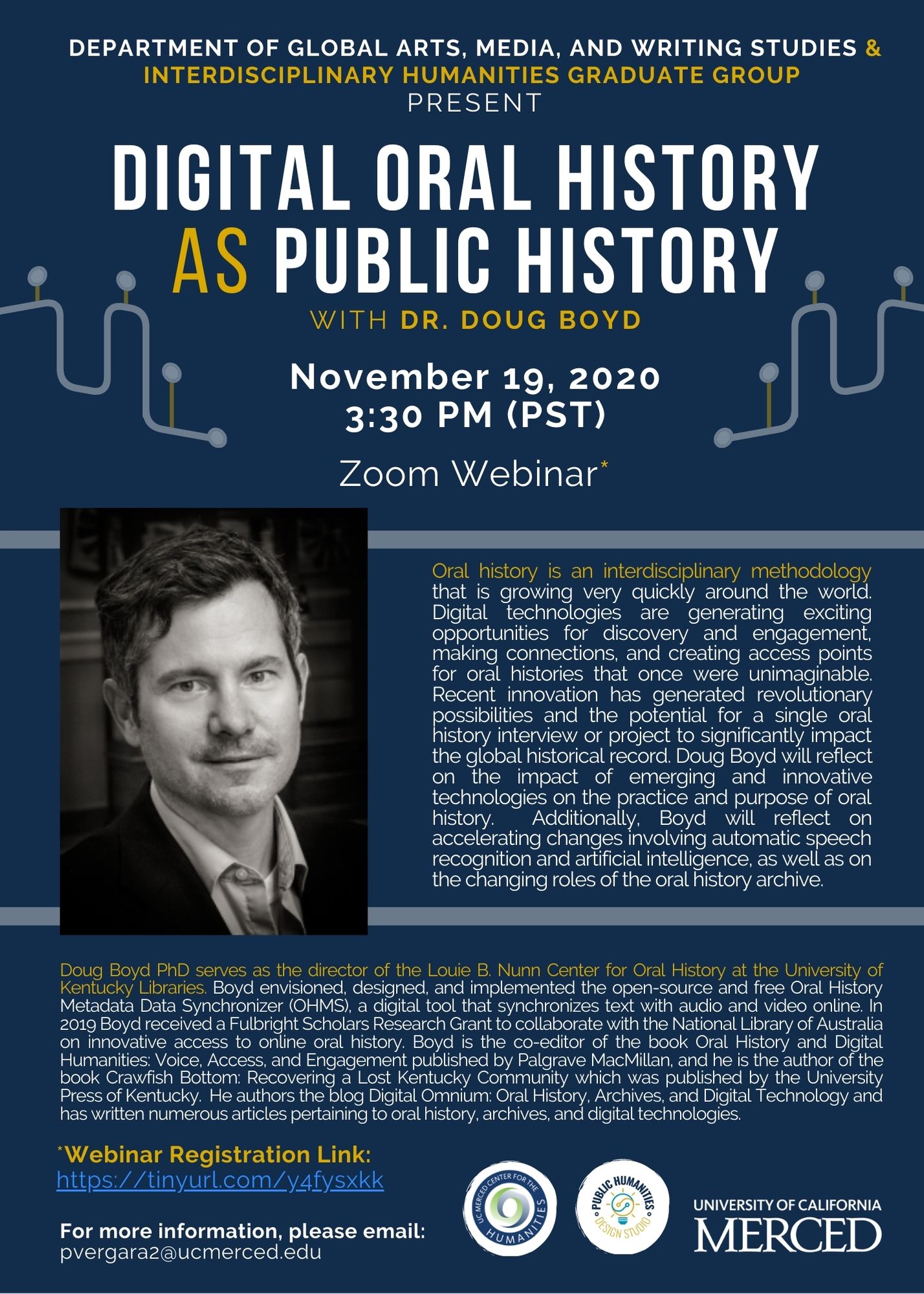 Digital Oral History as Public History
Guest Speaker: Dr.Doug Boyd
Novemeber 19, 2020 
3:30pm (PST)
via Zoom*
About: Oral history is an interdisciplinary methodology that is growing very quickly around the world. Digital technologies are generating exciting opportunities for discovery and engagement, making connections, and creating access points for oral histories that once were unimaginable. Recent innovation has generated revolutionary possibilities and the potential for a single oral history interview or project to significantly impact the global historical record. Doug Boyd will reflect on the impact of emerging and innovative technologies on the practice and purpose of oral history. 
Publishing for Graduate Students
with Dr. López-Calvo
February 12, 2021
12:00pm (PST)
via Zoom*
About: This workshop will provide advice on submitting your article to academic journals, common mistakes academics make, how to respond to a revise and resubmit, peer review and networking, writing an abstract, etc.