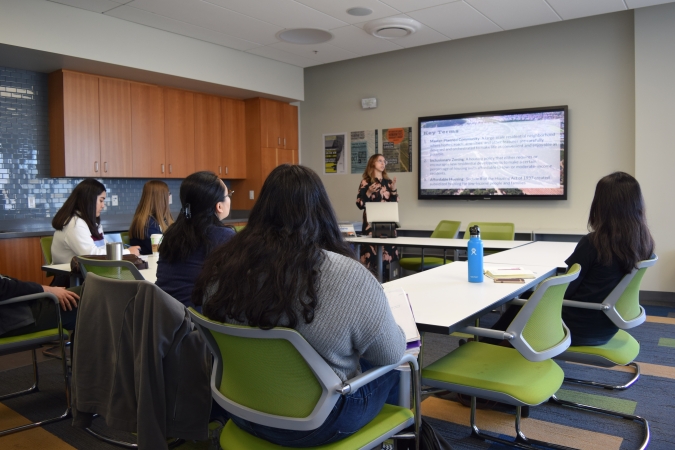 Valuable feedback on research, conference papers, and early drafts of work-in-progress
The IHGG is proud to announce its new Brown Bag Talks Presentation Series. These short presentations—led by graduate students and faculty members— provide opportunities for valuable feedback on current research, conference papers, and early drafts of work-in-progress. Throughout the Fall 2019 and Spring 2020 semester, the IHGG will host 20-minute presentations with follow-up Q&A sessions to showcase ongoing program research. Most importantly, the IHGG Brown Bag Talks help communicate and draw connections between interdisciplinary projects that span the fields of Anthropology, Critical Race and Ethnic Studies, English, Global Arts, History, Spanish, and World Heritage.
Third year graduate student, Shiloh Green, recently participated in the IHGG Brown Bag Talks with a talk entitled, "Housing Hegemony: Race, Citizenship, and 'Neoliberal Diversity' on the Irvine Ranch."
While Shiloh's larger work is broadly centered on contestation surrounding the post-1971 incorporation of Irvine, California, this talk examined the implications behind Irvine's efforts to deny low-income families of color the benefits of residential membership.
The IHGG Brown Bag Talks are helpful to the graduate group in many ways. For Shiloh, the series served as both a practice-run and preview of their conference paper before it was shared at the national American Studies Association's Annual Meeting in Honolulu, Hawai'i.
Plans are underway for next semester's Brown Bag Talks and the program is currently scheduling presentations. If you would like to participate in the IHGG Brown Bag Talks during Spring 2019, please send an email to isoto5@ucmerced.edu.